Citadel™ K-GL SSDs with Headless Pre-Boot Authentication (PBA)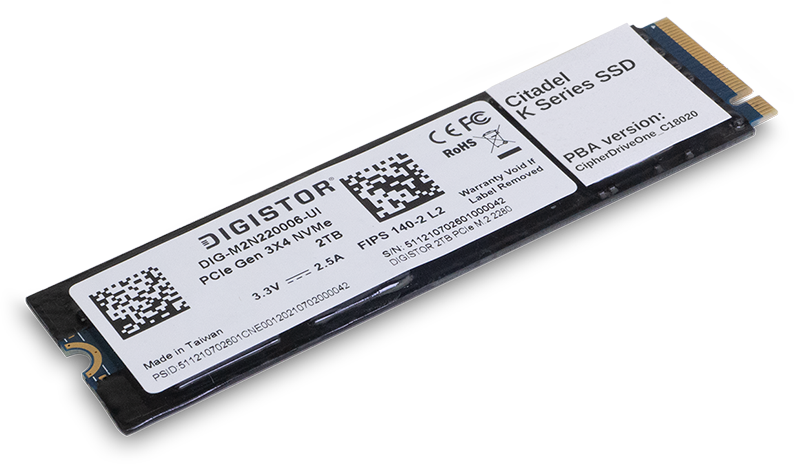 Secure Downrange Data at Rest (DAR)
Citadel K-GL FIPS certified self-encrypting SSDs, powered by CipherDrive™, are the only low-cost and ITAR-free SSDs featuring headless authentication.
Citadel K-GL secures data that's collected and stored in UAVs, sensor systems, autonomous platforms, appliances, and tactical edge devices that don't have a keyboard or monitor.
Citadel K-GL waits for a USB security key to be inserted before unlocking access the host system and its data.
Streamlined, Hardware-Based Performance
Citadel K-GL's military-grade Data at Rest (DAR) security ensures the safety of your downrange data using pre-tested pre-boot authentication (PBA), and hardware encryption.
Citadel K-GL's pre-boot authentication and its NSA-approved AES 256-bit encryption engine runs at the hardware level, meaning there is no software overhead that has to decode data as you go. You get full performance access to encrypted data.
Standardized form factors and a straightforward installation process streamlines the process of integrating Citadel K-GL directly into your application.
Citadel K-GL is specialized for headless applications
No monitor or keyboard required – System waits for a USB security key to be inserted before unlocking

Military-Grade Data at Rest (DAR) Security

Authorization Acquisition (AA) and Encryption Engine (EE)
Operating System Agnostic
COTS-priced and ITAR-free
AES 256-bit Encryption at Hardware Speeds
TAA Compliant
FIPS 140-2 Level 2 for SSD and FIPS 140-2 for PBA
NIAP-listed Common Criteria (CC) SSD and CC-certified PBA
Data Sheet:
Need more detailed information or product specifications? Download the Citadel K-GL data sheet now.