Citadel™ K Series SSDs with Pre-Boot Authentication (PBA)
Data at Rest Security… Simplified
Commercial Solutions for Classified (CSfC) Data at Rest security solutions for use by DoD, government, and critical infrastructure are easily built in to standard laptops, desktops, and tactical servers with Citadel K Series, powered by Cipherdrive®. They integrate multifactor authentication, pre-boot authentication (PBA), and hardware encryption into a complete, low cost solution.
Citadel K-GL for Headless Usage
Citadel K-GL SSDs use headless authentication to protect against unauthorized access to data on UAVs, tactical edge devices, and appliances, making them perfect to secure downrage Data at Rest (DAR).
Unlock Hardware Performance
Our built-in PBA unlocks access to the encrypted operating system or virtual machine on the Citadel SSD, as well as the data stored there. This secured data is encrypted by NSA-approved Advanced Encryption Standard (AES) 256-bit encryption at the hardware level. Once booted, Citadel allows no-overhead, hardware-speed access to encrypted data at the full performance of the system.
Military-Grade Data at Rest (DAR) Security
Authorization Acquisition (AA) and Encryption Engine (EE)
Operating System Agnostic
AES 256-bit Encryption at Hardware Speeds
TAA Compliant
FIPS 140-2 Level 2 for SSD and FIPS 140-2 for PBA
Constitutes a complete CSfC layer (FIPS SSD + PBA are both CSfC listed)
NIAP-compliant

 Common Criteria (CC) SSD and CC-certified PBA

Common Criteria Certified (NIST Certificate #3926)
Multi-drive support for tactical servers and other systems with multiple Citadel K Series SSDs: unlock one SSD to authorize access to all SSDs
Citadel K-SD (Single Drive Version)
Secure critical or classified Data at Rest (DAR) with pre-boot authentication
Citadel K-MD (Multi-Drive Version)
Secure multiple SSDs with pre-boot authentication and protect critical or classified Data at Rest (DAR)
Citadel K-GL (Headless Version)
Secure critical or classified Data at Rest (DAR) on on downrange devices that
require headless authentication 
Easily Deployed Military-Grade Data at Rest Security
Integrated hardware solution
Pre-boot locking (pre-boot authentication)

Hardware AES 256-bit encryption engine

No software required

No software overhead

Hardware speeds
Compatible with your systems
Windows, Linux, and hypervisors like SecureView and Forcepoint

NVMe and SATA interfaces

 

M.2 and 2.5-inch

 

Suitable for commercial laptops and desktops

 

Use computers from major OEMs, system builders

 
Perfect for DoD, Federal agency, critical infrastructure
Address Federal requirements to secure DAR

Constitutes a complete CSfC layer 

COTS pricing and availability

 

No need for expensive, specialized solutions

 
Easy to Manage DAR Security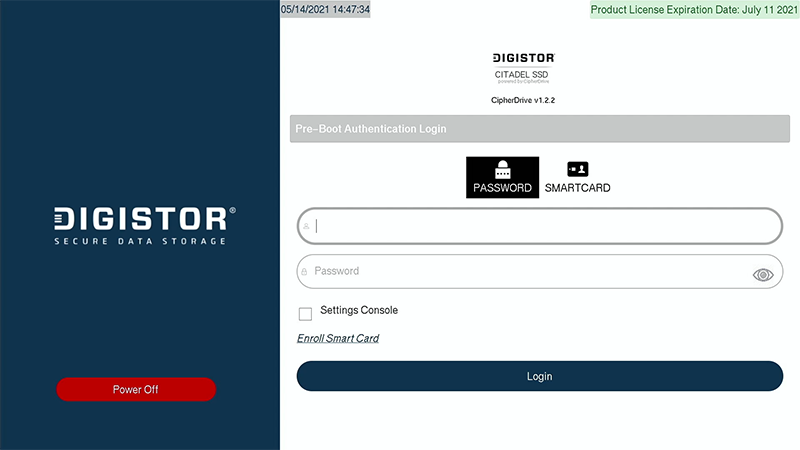 Pre-Boot Lock
A pre-boot authentication layer is built into Citadel SSDs to authenticate a user (using either a password or smart card) before the operating system boots. This pre-boot authentication, combined with full-disk hardware encryption, protects the entire DIGISTOR SSD and not just individual files.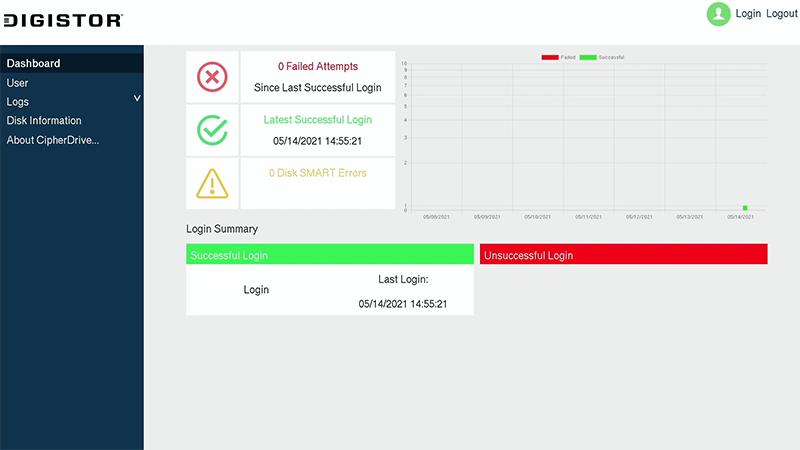 Dashboard
The built-in dashboard gives a quick and detailed overview of the security profile of the computer.
Data Sheet:
Download our data sheet with more information on Citadel K Series SSDs with pre-boot authentication.
White Paper:
Building a Citadel of Trust in a Zero Trust World
Your challenge is to secure and protect the Data at Rest under your control to the extent determined by its classification levels. You need to beware the increasing cyberattacks while limiting the attack surface. At the same time, to fulfill your mission, you have to manage cost and complexity while providing authorized users access to files and data across a multitude of platforms.
White Paper:
Is Your Data at Rest (DAR) Truly Secure?
If there's anything we've learned over recent years, it's that our computer systems in general — and the precious data stored on them in particular — are susceptible to attack by hackers. These bad actors can range from independent entities to nation states.