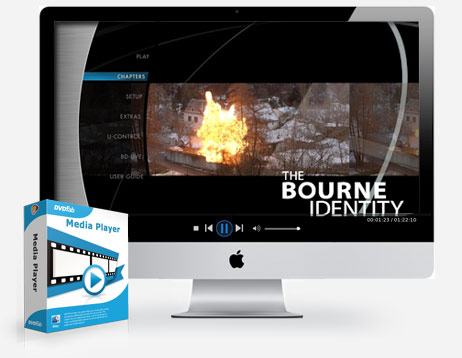 Get your MacBook Pro, Air, Mini, and iMac ready to play that gorgeous 1080p video from your favorite Blu-ray movies because DVDFab and XBMC have created a knock-out combo movie player application you have to check out! Grab your External Blu-ray drive, plug it in, and read on…
We are not unfamiliar with certain Mac Blu-ray players out in the market. There's been whispers of tweaking VLC and other workarounds, even some retail offers are used by our customers. We recently found that DVDFab has built software that really gives users a pleasant Blu-ray playback experience on the Mac, and it works perfectly with DIGISTOR Blu-ray drives (of course we had to let you know!)
DVDFab teamed up with XBMC a fantastic duo for overcoming playback issues on a closed system like the Mac. By doing so they were able to create a software called DVDFab Media Player for Mac which plays Blu-ray discs directly from the Blu-ray drive plugged into your Mac. It will also play Blu-ray ISO files, and many other media file types making it a nice well rounded media player anyway.
The software hasn't officially released yet, the company claims it is coming soon. To support that claim they are giving a 30 day free trial on their website.
One thing to note is that this software does require internet access so the software can ping DVDFab's servers to get the latest unlock for the movie you are trying to watch. DVDFab has been the leaders of DVD and Blu-ray movie ripping software for quite a while, so its no wonder why they can easily unlock a Blu-ray discs with just a ping, but they must do this over the internet at the time the movie tries to play.
Though we ran into a few bugs while using the trial, we felt the overall experience was the best we've had playing a Blu-ray disc on a MacBook. Take a look, let us know if you feel it's worth the $60 price tag, or if you've had a better experience with another program.
Source: DVDFab