Kevin Lee with his daughter, Alyssa, before hitting the golf course
We're kicking off a new series profiling some of the women and men behind the scenes at DIGISTOR, from the sales team to operations, manufacturing, and more. 
"Know me, like me, trust me, buy from me," says Kevin Lee, DIGISTOR's Business Development Manager. It's an old axiom, but for Kevin, or K Lee to his friends and colleagues, living by it has made for happy customers and long-lasting relationships. "Along the way, I've made some life-long friends," Kevin considers, adding "the 'buy from me' comes, but it doesn't come without the trust piece of it. Dependability." K Lee is one of our star sales representatives, stewarding and growing some of DIGISTOR's most important business relationships. 
Growing up in the South, K Lee played baseball at Concordia University Texas, and has been a huge sports fan his entire life. These days, however, you're more likely to find him on the links than the field. Having played golf for 25 years, getting out on the course a few times a week, K Lee has learned the personal and mental aspects of the game, finding patience and reward in its simplicity. "It's a hard game. It seems like it should be incredibly easy. The ball's not moving, right? It's just sitting there. But it's incredibly difficult to make that ball do what you want it to."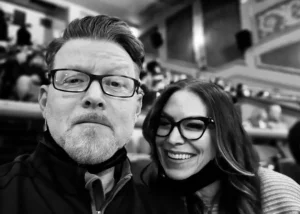 Kevin Lee and his wife, Laura
K Lee's attention to detail and willingness to get it right has made him well-suited to selling DIGISTOR's new Citadel secure storage for Data at Rest (DAR). Citadel is a straightforward solution for military, government, and enterprise customers who demand high standards of security and a wide variety of requirements. "This product could really change the landscape of Data at Rest for the Federal segment," he says. For K Lee, Citadel offers the opportunity to go into the weeds and demonstrate not just his high degree of familiarity with DIGISTOR's line, but the nuanced needs of his customers. "Everybody likes the easy button, you know," he says. At the forefront of customer concern, K Lee explains, is the need to get something done and as soon as possible. "My customers surround themselves with people that can help them get projects completed in a timely fashion, and I want to be one of those people." 
Over the years, the relationships K Lee that has built with customers has brought them together in one of his favorite places: the golf course. K Lee credits trust and reliability to that success, fun, reward, and even friendship he and his partners experience after a deal. "It's about being a trusted advisor; someone they can count on. It transcends the sales part of this job."